The RJS Guest Educators Series
RJS is partnering with CultureWorks and over 150 arts and cultural organizations throughout Central Virginia during October to highlight the depth and breadth of arts and cultural activities with official artoberVA events. Visit the official artoberVA website for activities happening near you.
Join us at Capital Ale House in October as we begin our Fall 2016 season!
Tuesday, October 11th
JAE SINNETT'S ZERO TO 60 QUARTET
featuring saxophonist RALPH BOWEN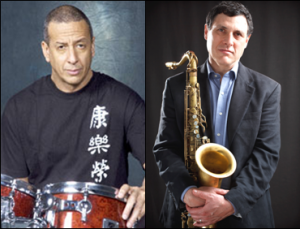 Virginia drummer/composer Jae Sinnett has written over 150 compositions, produced 14 recordings, scored five documentaries and has produced/hosted a Jazz radio show for NPR affiliate WHRV-FM 89.5 in Norfolk VA for over 25 years.
"His latest, 'Zero To 60', is full of thought provoking performances, and the pulse is never forgotten.  Carry on, Mr. Sinnett, with your Gifts!!!"
Ahmad Jamal
~~~~~~~~~~~~~
Tuesday, November 8th
QUINCY JONES PRODUCTIONS PRESENTS
 JUSTIN KAUFLIN TRIO

Pianist/composer Justin Kauflin has been working with Quincy Jones for over 10 years and was recently the subject of an award winning documentary with his mentor, the late legendary trumpeter Clark Terry, "Keep On Keepin' On".
"What I liked about Justin was he'd done his homework.  God gives you the right brain, everyone's got emotion, but you gotta practice, you gotta put the left-brain work in.  You need musicality and discipline."
Quincy Jones
~~~~~~~~~~~~~
Tuesday, December 13th
VOCALIST CHARENEE WADE

Charenee Wade is a professor at the Aaron Copeland School of Music, NYC, and was the first runner-up in the 2010 Thelonious Monk International Vocal Competition.
"Known for expert vocal improvisational ability and her seriously swinging groove, Wade evokes a classic Jazz sound akin to Betty Carter and Sarah Vaughan, two of her musical touchstones."
Motema Music
————-
 Richmond Jazz Society's
Guest Educators' Series
is funded in part by:
 Arts & Cultural Funding Consortium:
City of Richmond, Hanover County & Henrico County
Richmond Piano
Hilton Downtown Richmond
Capital Ale House
 ======================================================================
PAST ARTISTS PRESENTED BY THE
RJS GUEST EDUCATORS' SERIES
AUG 2016 – SHARON RAE NORTH
JUL 2016 – NORMAN CONNORS
JUN 2016 – AL STRONG BAND
MAY 2016 – KIA BENNETT
APR 2016 – ODEAN POPE
DEC 2015 – DENISE KING
NOV 2015 – CHARLES OWENS
OCT 2015 – LUCY KILPATRICK
OCT 2015 – THE LAWRENCE OLDS BAND
SEP 2015 – JANE BUNNETT & MAQUEQUE
MAY 2015 – WARREN WOLF & WOLFPACK
APR 2015 – STEVE WILSON & WILSONIAN'S GRAIN
MAR 2015 – DR. W. WELDON HILL
DEC 2014 – DESIREE ROOTS
OCT 2014 – DEBO DABNEY ON THE HAMMOND B-3
SEP 2014 – LYNNE ARRIALE & CARLA COOK
JUN 2014 – BOPNATION / L'TANYA MARI' TRIO
MAY 2014 – RANDY JOHNSTON TRIO
APR 2014 – STEVE DAVIS QUINTET
DEC 2013 – EVE CORNELIOUS
NOV 2013 – RALPH PETERSON FO'TET
OCT 2013 – TRIBUTE TO JAZZ FUSION
JUN 2013 – BUSTER WILLIAMS QUARTET
MAY 2013 – JAMES "SAXSMO" GATES
APR 2013 – ERIC ALEXANDER / HAROLD MABERN
DEC 2012 – PLUNKY & THE UNIVERSAL ENSEMBLE
NOV 2012 – JASON JENKINS & 32 BAR RECORDS
OCT 2012 – VINX
MAY 2012 – THE DIVO'S
APR 2012 – STEVE WILSON
MAR 2012 – CONNIE PARKER
DEC 2011 – EVE CORNELIOUS & JEREMY PELT
NOV 2011 – SONNY FORTUNE
OCT 2011 – LONNIE LISTON SMITH
SEP 2011 – STEVE TURRE
JUN 2011 – JAMES "SAXSMO" GATES
MAY 2011 – WALLACE RONEY
APR 2011 – MARIE GOODMAN HUNTER
MAR 2011 – BUSTER WILLIAMS QUARTET
FEB 2011 – TRIBUTE TO DR. BILLY TAYLOR
DEC 2010 – TIA FULLER
NOV 2010 – RAS MEL
OCT 2010 – AFRO PERUVIAN JAZZ ENSEMBLE
SEP 2010 – WINARD HARPER
JUL 2010 – RUDY FAULKNER
JUN 2010 – ROBERT JOSPE
MAY 2010 – RENE MARIE
APR 2010 – GRACE KELLY
MAR 2010 – AMINA FIGAROVA
FEB 2010 – STEPHANIE NAKASIAN
JAN 2010 – BUTTERBEAN JAZZ QUARTET
DEC 2009 – EVE CORNELIOUS
NOV 2009 – JAE SINNETT
OCT 2009 – AL FOSTER
SEP 2009 – MICHELE ROSEWOMAN
AUG 2009 – FREDDIE COLE
JUL 2009 – JAY HOGGARD
JUN 2009 – NAT REEVES
MAY 2009 – GYPSY ROOTS
APR 2009 – LARRY WILLIS
MAR 2009 – VCU JAZZ MASTERS
FEB 2009 – BAN CARIBE
JAN 2009 – TOM BROWNE